Millennials, Home Buying and Wealth: The JCHS Viewpoint
Monday, July 25th, 2016 and is filed under Financing / Mortgage
At the beginning of each summer, the Joint Center for Housing Studies of Harvard University (JCHS) issues its "State of the Nation's Housing." In the 2016 report, researchers noted that "by many measures, the US housing market has recovered substantially from the crash." (1)
Despite this, the housing report itself is a mixed bag, something we'll discuss in future blogs. This particular article deals with the question as to whether millennials will start buying houses.
Many blogs, op-eds and articles written carry the tone that, if it weren't for student loans, and the fact that young adults are waiting to marry and start families, they would already be diving into, and happily swimming in, the home ownership pool. Such articles talk frequently about "pent-up demand," as though young adults are waiting breathlessly on the sidelines, anticipating that right moment for the offer, down payment and close.
Certainly, student loans and psychographics exert pressure on young adults' home ownership decisions. The JCHS further also out that the home ownership rate depends on whether households can actually finance homes, as opposed to whether they want to own. So rather than focusing on when millennials will start buying homes, the better question might be whether they can actually afford them.
Household Formation and Cold, Hard Cash
One issue impacting homeownership and multifamily rent rates during and in the immediate aftermath of the Great Recession was lack of household formation. Young adults, just out of college and unable to find jobs, lived with their parents. Many also went back to school, receiving their master's degrees and doctorates, until such time that jobs would return. While this was good news for universities and colleges, it did put the brakes on household formation.
But the economy has been improving, and students graduating with their advanced degrees have been finding great-paying jobs. This has led to an upward trend in household formation among millennials and younger gen-Xers.(2) Household formation, in fact, seemed to be stronger among the older segment of the millennial age group, suggesting this cohort has been successful in finding jobs for the past several years. The JCHS report noted that the number of younger millennials living with their parents has increased; however, once this group becomes older and finds jobs, the trend should reverse.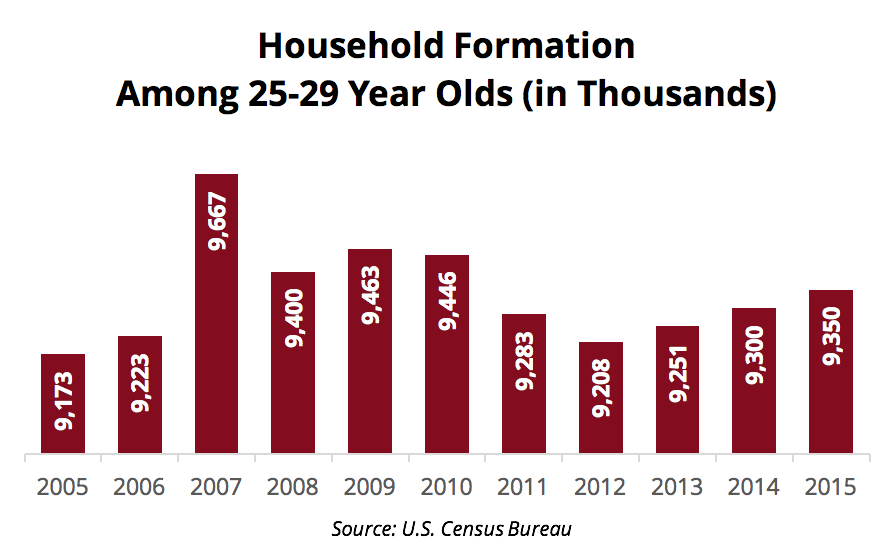 Household formation is one aspect to consider when it comes to home ownership (or lack of it). Another one is whether households can afford home ownership.
From a big picture standpoint, household median income has been steadily increasing among young adults since the recession.(3) The JCHS points out that household income among minority groups hasn't been as quick to increase, however – a trend we'll discuss in a future blog. Housing affordability has been, and seemingly will continue to be, a huge problem among lower-income and minority groups.
Optimistic Youth
Along with household formation and income growth, comes the question of desire. Specifically, do millennials WANT to own? The JCHS says yes, based on results from The Demand Institute, which conducted surveys among younger millennials. Those surveys unearthed some interesting finds.
Millennials are split between renting and owning. An accepted concept has been that recession-scarred millennials eschew home ownership because they saw, first hand, how parents, uncles, grandparents, cousins, and lost homes during the downturn. But the Demand Institute's findings suggest renting and home ownership are split evenly among this cohort. House rentals are also gaining favor, because many millennials want more space (which could have an impact on the "tiny house" trend).
They want to own . . . in the suburbs. Another accepted concept has been that millennials are urban-dwellers; they want to be where the amenities, transportation and walkable cities are. But when it came to owning, their attitude mirrored that of the 1960s situation comedy "Green Acres," when Eva Gabor passionately proclaimed: "Goodbye, City Life!" Millennials want to live in suburbs; specifically, walkable communities a short distance from their jobs. They're also fine with short drives to the grocery store, restaurants and retail.
Millennial Dam-in-Waiting?
The desire to own does exist. Additionally, households and income are starting to show support for younger adults and home ownership. The JCHS suggests that, as millennials becomes older adults, they'll move to home-buying. Still, JCHS researchers noted: "Millennials have come of age in an era of lower incomes, higher rents and more cautious attitudes toward credit and home ownership, conditions that are likely to affect their consumption of housing for years to come."
In other words, yes. Millennials will come off the home-buying sidelines. But look for a trickle, rather than a flood.