Homeownership Affordability in Dallas
Wednesday, July 20th, 2016 and is filed under Housing Affordability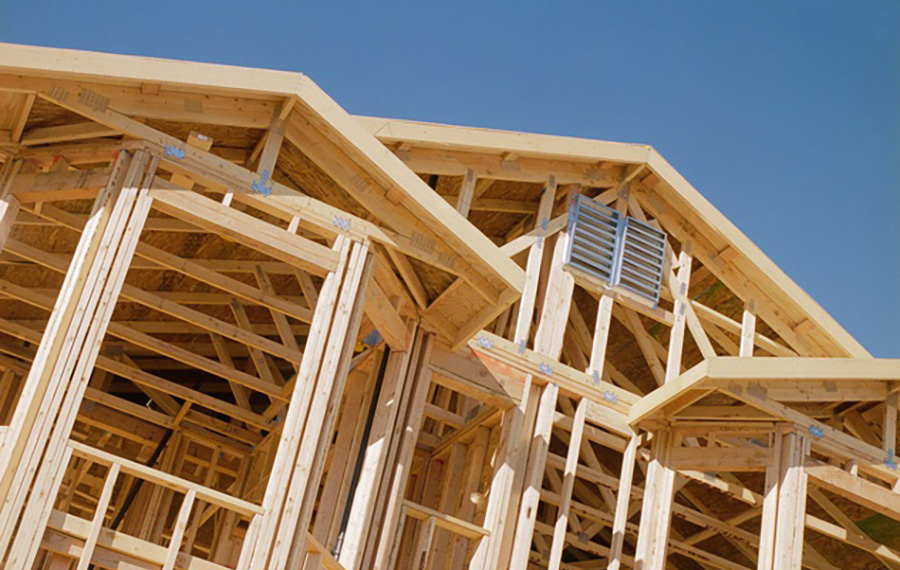 This is the third of four blog posts covering the Dallas Federal Reserve's conference "Finding Shelter: Assessing Texas Residential Real Estate Amid the Oil Slump," which took place Feb. 12 at the Dallas Federal Reserve.
In previous blog posts, we've mentioned that the Dallas-Fort Worth single-family housing market has been doing quite well. Home sales records were smashed in 2015, and metrics are likely to remain strong in 2016.
This is good news for the Dallas-Fort Worth-Arlington Metropolitan Statistical Area (MSA). An active housing market is part of an attractive economy.
There is little doubt, however, that home prices are increasing throughout DFW. If the prices become too high, it could put homeownership out of the range of many area households.
The Pricing Story
At a recent conference hosted by the Dallas Federal Reserve, James P. Gaines, chief economist with the Real Estate Center at Texas A&M University, pointed out that housing affordability and infrastructure were two issues impacting Texas. "Since 2000," he said. "The median home prices have been growing faster than income. Technically, 43% of Texas households can't afford to buy homes priced higher than $150,000."
Moving from the state to the regional level, the National Association of Realtors' (NAR) Housing Affordability Index for the Dallas-Fort Worth MSA is showing a decrease, over time, of homeowner affordability. (1)
Now, the DFW's HAI in 2015 stood at 187. Not too bad; families in Dallas have 187% of the income necessary to qualify for a conventional loan on a median-priced home. But a careful look at the graph shows that the HAI has dropped since 2012.
As Gaines noted at the Dallas Fed conference, housing prices are going up faster than income. This is true in the DFW area. More expensive homes are being built and sold. But households are having a hard time keeping up with the increase.
Missing Supply
It's instructive to take a look at where DFW was just a handful of years ago in terms of housing affordability, versus what's going on now. [2].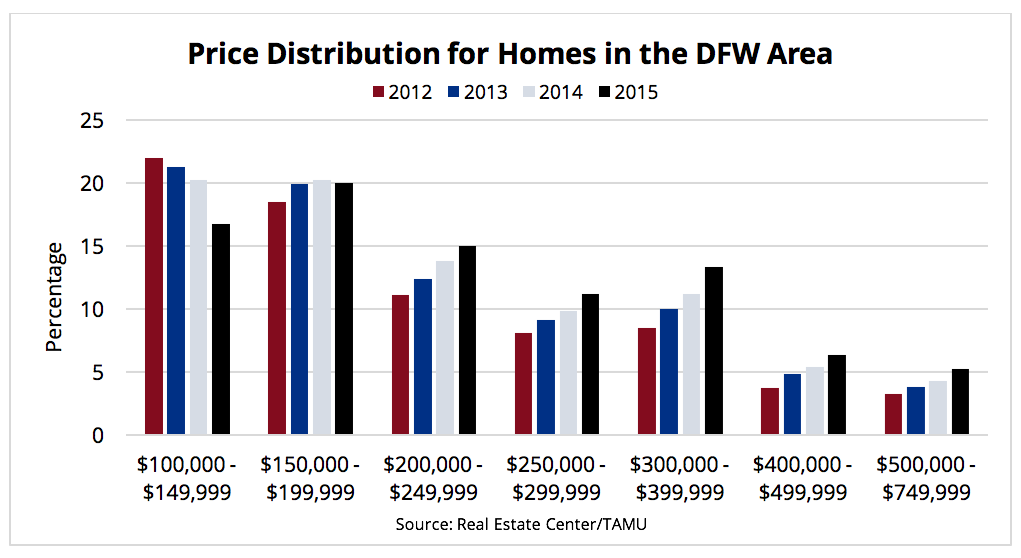 In 2012, more than 20% of homes sold in the DFW area were in the $100,000-$150,000 range according to the Real Estate Center at Texas A&M University. By 2015, that metric dropped to less than 15%. Meanwhile, the percentage of homes priced $200,000 and higher has climbed steadily.
Part of the reason for these metrics is, as mentioned above, more supply is available at a higher price point. But looking at this, combined with the HAI, it means fewer first-time home-buyers (who would be in that $100,000-$150,000 range), not to mention individuals whose salaries are too low to qualify for the higher-priced homes.
Getting Back to Affordability
At this point, the Dallas-Fort Worth area is not in danger of having vacant, higher-priced houses due to affordability issues. The region is creating plenty of jobs, and many of them pay well. But the statistics need to be watched to ensure that oversupply of higher-priced homes doesn't become an issue because people can't afford them.
[1] National Association of Realtors, 2016. Metropolitan Median Area Prices and Affordability. [Online]
Available at: http://www.realtor.org/topics/metropolitan-median-area-prices-and-affordability
[Accessed 28 March 2016].
[2] Real Estate Center, Texas A&M University, 2016. Housing Activity & Affordability. [Online]
Available at: https://www.recenter.tamu.edu/data/housing-activity/
[Accessed 28 March 2016].