Austin, Dallas Rank #1 & #2, According to the ULI
Thursday, November 3rd, 2016 and is filed under Economy, Financing / Mortgage, General, Housing Market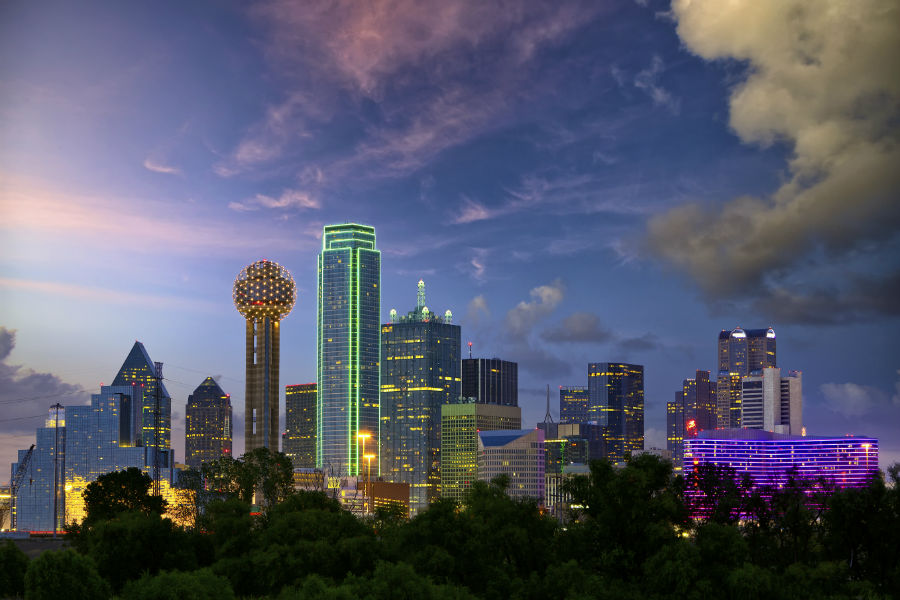 Texas Top-Outs
Two noteworthy items coming out of the recent Urban Land Institute's (ULI) Fall 2016 conference in Dallas were that Austin and Dallas were ranked first and second, respectively, in the "Emerging Trends in Real Estate, United States and Canada 2017" survey. The ULI conducts these surveys annually, in conjunction with PwC1. The survey polls those in the commercial real estate industry, asking them where the best investment and development opportunities are.
Basing rankings from 1 (Abysmal) to 5 (Excellent), the survey examined factors among 79 metros, ranging from cost of development and investment, to economic factors such as job and population growth.
Perhaps unsurprisingly, rankings for Austin and Dallas were on the high side. And though Houston's stock as an investment/development center dropped with oil prices, the metro ranked #40 out of the 78 analyzed. Meanwhile, San Antonio started moving onto the radar of some investors and developers, placing #32.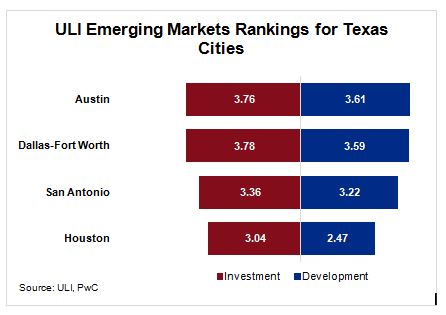 What They Said
So, why were these Texas cities ranked as they were? The survey respondents had plenty to say.
Austin: What's Not to Like?
Austin is well-liked, thanks to its economic diversity and focus on tech. Respondents also liked growing and highly-educated workforce. Not everything is rosy in the Capitol City, however – there is increased concern about growing transportation issues, as well as the rising cost of living and costs of doing business.
The consensus: Though Austin is "small potatoes" for international capital, the metro tops many domestic investors' wish lists.
Dallas-Fort Worth: Leaving "Secondary Market" Designation Behind
Respondents like what's happening throughout the Dallas-Fort Worth metroplex, from economic diversification, to a business-friendly environment. The costs of doing business – as well as the cost of living – were considered quite attractive, along with a well-educated workforce and great access by air, rail and road.
The consensus: Dallas-Fort Worth is moving into core market territory.

San Antonio: Affordable, Business-Friendly
About one hour due south of #1 Austin, the San Antonio metro is coming into its own. Respondents liked the low costs of living and doing business are great; they also liked the organic job growth, in which companies already in the market are adding new jobs.
The consensus: The metro should focus on improving the local educational system. Doing so would help meet the needs of potential employers, and make San Antonio attractive as a relocation destination.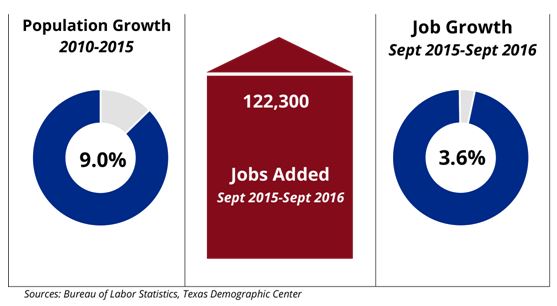 Houston: Waiting and Seeing
Perhaps unsurprisingly, investors and developers are waiting to see how the energy industry's issues play out in Houston, and how the market will deal with new office and multifamily supply. The office side is further hindered by sublease space coming to market from downsizing energy-related companies. On the bright side, there has been improvement among the leisure/hospitality and health-care sectors.
The consensus: Employment growth will stay positive, though slower economic growth is likely to hinder the housing market.
[1] Urban Land Institute (2016). "Emerging Trends in Real Estate, United States and Canada 2017." Retrieved from http://uli.org/research/centers-initiatives/center-for-capital-markets/emerging-trends-in-real-estate/americas/