What's Next for the DFW Housing Market?
Monday, February 6th, 2017 and is filed under Construction, Economy, General, Housing Affordability, Housing Market, Housing Starts
About a year ago at this time, it was anticipated that single-family home prices and sales would likely moderate in the Dallas-Fort Worth area, but still be strong. Then 2016 saw single-family industry records shattered, ranging from number of closings, to increasing closing prices.
Will 2017 be a repeat? As of now, most analysts are thinking the housing market should moderate. Metrostudy's most recent report noted that demand is slowing at certain price points (i.e., homes priced at $400,000 and above)1. Meanwhile, Jonathan Smoke, chief economist with Realtor.com, indicated that the price forecast for Dallas "is moderating right in line with the overall United States."2
The forecasts are all well and good, and it will be interesting to determine how they play out. However, based on metrics from December 2016 (the latest available), very little seems to be slowing down.
Job Growth Continues . . .
The Bureau of Labor Statistics' December figures point out the Dallas-Fort Worth-Arlington MSA's job growth at 3.3%. While this number wasn't near the close to 4.0% reported during spring 2016, it's still a really good figure. It means 110,500 jobs were added from December 2015-December 2016. By the same token, the unemployment rate was 3.7%. Incidentally, job growth in DFW topped that of Texas', while the unemployment rate undercut that of the state's.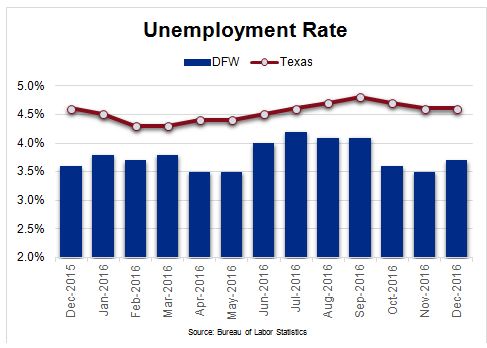 And, as we have consistently written, these numbers don't count additional hires from 2017 corporate relocations. Plus there are going likely be more relocations that have yet to be announced. Summing all of this up, The D-FW area can expect more people coming to town, looking for houses.
As Does Housing Scarcity . . .
Another thing we've been saying, for months, is that the Dallas-Fort Worth housing market is also low on single-family houses. December's inventory, according to the North Texas Real Estate Information Systems (NTREIS), the number of inventory units dropped by 9.5% year over year. Meanwhile, months of inventory dropped by 12.0% during the same period.
Not to keep repeating things, but a market in equilibrium should have between four and six months of inventory. Demand continues outstripping supply – and inventory.
But what about housing starts. Aren't those starting to make up the deficit? Metrostudy shows a steady increase in starts, from fourth quarter, to fourth quarter. Metrostudy also reported that new home starts are up 11.2% over 2015 levels – though much of the growth comes from an increase in Q1 2016 starts. Still, there is a gap in housing inventory that needs to be filled.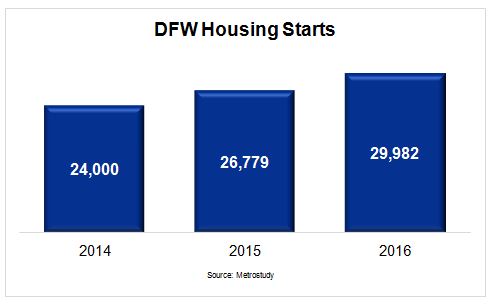 What's Likely to Happen in 2017?
The 2017 Forecast
Realtor.com's Smoke is forecasting home prices to increase 4.13% in 2017. He also indicated that more inventory is coming to the market, especially from new construction. "Dallas is falling out of the ranks of being an affordable growth market," he said, adding that doing so could impact the region's ability to recruit both new companies and jobs to North Texas.
Meanwhile, over at Metrostudy, concerns continue to exist about housing affordably. According to Metrostudy Dallas Director Paige Shipp, a few builders are providing new homes, priced below $200,000, in less-desirable school districts. The problem, however, is that much of the demand continues to be for affordable, new homes in top school districts that are close to employers. The issue, she went on to say, "will only be resolved once municipalities, developers and builders work together to deliver homes priced to meet the demand."
Whether these entities will work together in 2017 remains to be seen. What will be interesting to see in 2017 is whether North Texas housing prices can remain affordable, and whether enough housing will be in place for the continued demand.
[1] Dallas Housing Market 4Q16 (January 25, 2017). Metrostudy. Retrieved from http://www.metrostudy.com/dallas-housing-market-4q16-mismatch-supply-demand-affordability-issues-loom-rapidly-appreciating-market/
[2] Candace Carlisle (November 30, 2016). "Dallas-Fort Worth 2017 Forecast: Unaffordable Homes." Dallas Business Journal. Retrieved from http://www.bizjournals.com/dallas/news/2016/11/30/dallas-fort-worth-2017-forecast-unafforadable.html