Is Texas Job Growth Really Tanking?
Friday, June 3rd, 2016 and is filed under Economy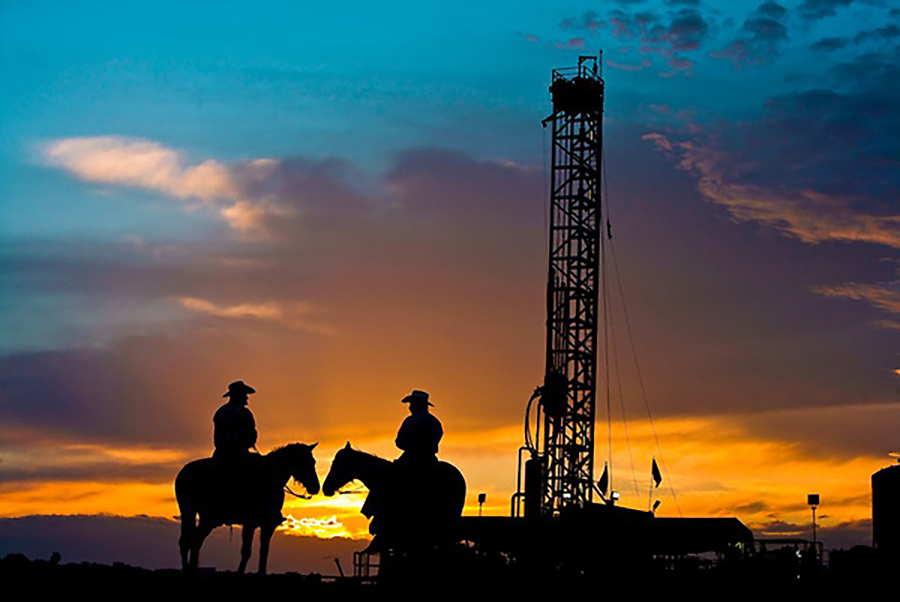 Looking at Texas' job gains and growth, the first question that could come to mind is: "What happened?" In February 2015, the state's job growth stood at 3.4%, well above the national average. A year later, according to preliminary figures from the Bureau of Labor Statistics (BLS), February 2016's job growth stood at 1.4%.
Economists note that oil's pricing volatility has had – and will continue to have – a negative impact on Texas' job growth for the remainder of this year. But what economists forget is that Texas is a huge state with several major metros. In fact, three major metros — Dallas, Austin and San Antonio — continue adding jobs even as oil prices plunge.
It's true that the oil-dependent economies – such as Houston, Odessa and Midland – are experiencing a slowdown in job growth.  But it's also true that 1) Houston continues creating jobs, and 2) Job growth in Dallas (4.2%), Austin (4.0%), and San Antonio (3.3%) was still well above the national average of 1.9% for 2015.
Texas "Oil Economies"
In the third quarter of 2013, oil prices, especially West Texas Intermediate crude, were robust, at more than $100 a barrel.  By the fourth quarter of 2015, they had plunged to below $40 a barrel. Prices are currently bouncing between the $35-$45 range.(1)
For cities such as Midland and Odessa, the decline in oil prices has been a problem. The success (or failure) of their economies rests almost entirely on oil. As rig counts have dropped and jobs have been slashed, annual job growth in Midland and Odessa has fallen accordingly. (2)
Soft oil pricing has also seen Houston undergo a decline in job growth, albeit much less severe; and it has yet to dip into negative numbers. Instead, Houston's economy continues to generate jobs, due to other economic drivers in play.
Petrochemical factories are being built in Southeast Houston, meaning construction jobs. The healthcare sector is also strong, thanks to the well-regarded Medical District. And the Port of Houston is an important employer. It's also one of the ports that will be directly impacted when the Panama Canal expansion is complete later this year. Look for Port of Houston's imports and exports to increase – meaning more jobs. So "Oil City's" economic diversity continues to add jobs, despite the slippage in energy prices.
Speaking of Diversity…
Dallas-Fort Worth and Austin present a sharp contrast to the more energy-dependent economies, thanks to very diverse industries. In the Dallas-Fort Worth area, Liberty Mutual, State Farm, 7-Eleven and Toyota are building corporate campuses, with plans to hire locally.  Other companies, such as CoreLogic, OneSource Virtual, Toyota Industries Commercial Finance and British Telecom are already in place, and have been hiring. It was announced in early March 2016 that, after a year-long, five-state search, pharmaceutical distributor McKesson Corp. will be bringing nearly 1,000 jobs to North Texas as part of a $157 million expansion.
Further south on Interstate 35, tech corporations and entrepreneurs are drawn to the Austin region's affordable cost of living, business-friendly environment, and great talent pool. Oracle and Dell are expanding and adding new employees. Assured Enterprises, which handles cybersecurity assessment tools, moved its headquarters to the area; other companies relocating include Novitex Enterprise Solutions (cloud-based solutions) and Natera (genetic diagnostic-testing kits).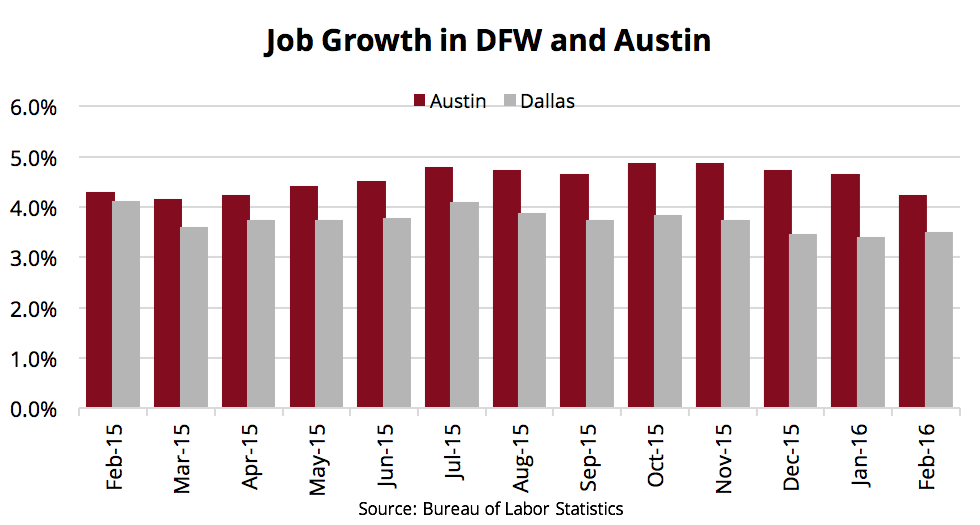 In addition to the new jobs being created by corporate relocations and entrepreneurial expansions, the Leisure & Hospitality category is active in both metros, as is Education & Health Services. The reason for the latter's increase in job growth is because more people are moving to DFW and Austin. This is requiring additional health services and more schools.
Are energy companies struggling in Austin and DFW? Yes. The difference, however, is that there is enough diversity in both these economies to offset job cuts or losses occurring among oil and natural gas companies.
Conclusion
Certainly, Texas' job growth will be impacted by oil prices in 2016. But it would be a mistake to suggest that all metros will be similarly impacted. The Lone Star State has many economies and industries housed within its borders. As such, economic diversity in certain metros means that not all is gloom and doom for Texas, despite continued sluggish oil prices.
[1] U.S. Energy Information Administration. (2016, March). Short-Term Energy Outlook-Market Prices and Uncertainty Report. Retrieved March 30, 2016, from U.S. Energy Information and Administratiton: http://www.eia.gov/forecasts/steo/pdf/uncertainty.pdf
[2] Bureau of Labor Statistics. (2016, February). Southwest Information Office — Texas. Retrieved March 30, 2016, from Bureau of Labor Statistics: http://www.bls.gov/regions/southwest/texas.htm