Housing in South Dallas
Wednesday, March 15th, 2017 and is filed under Construction, Economy, Financing / Mortgage, General, Housing Affordability, Housing Market, Housing Starts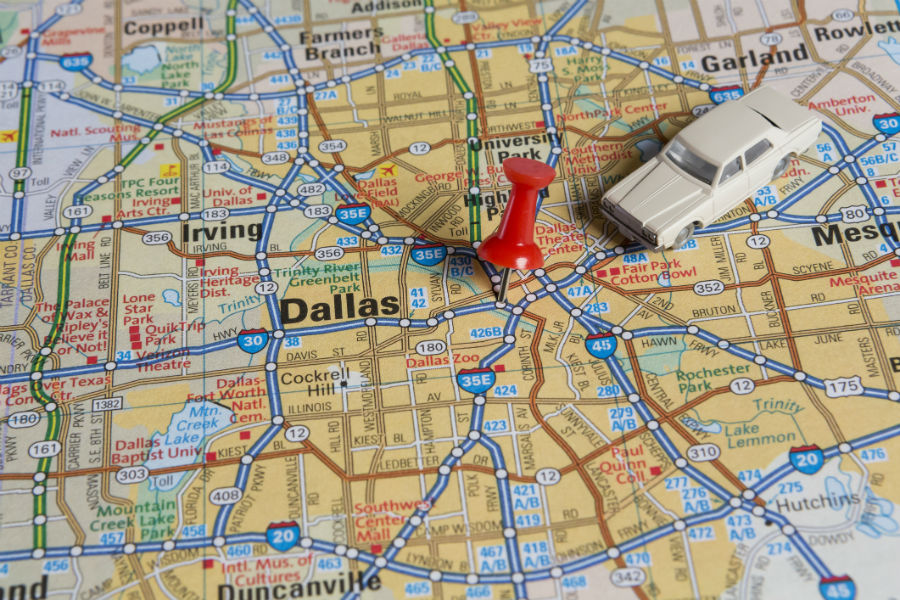 DON'T COUNT SOUTH DALLAS OUT
The Dallas Miracle – A North-Side Miracle?
When the "Dallas Miracle" is discussed, the economic focus tends to be on the northern Dallas suburbs. A great deal of development and corporate relocations are taking place in Plano (Legacy West), Richardson (City Line) and Coppell (Cypress Waters).
And, perhaps unsurprisingly, a great deal has been written about housing price increases in these areas. So, when headlines like "North Texas Home Sales Hit All-Time High in February1" pop up in the Dallas Morning News, it's assumed that much of that increase is happening in Dallas, specifically, and just as specifically, well north of Interstate 30.
But a couple of recent articles have looked south; specifically, to the South Dallas sub-market. Industrial experts are seeing a great deal of development and investment activity in South Dallas. Lee & Associates' Trey Fricke noted that much of the demand is centered around manufacturing, while JLL's Darrow said South Dallas is active, because of land availability (though finding shovel-ready sites remains a challenge)2. Meanwhile at a recent Connect Dallas conference, industrial experts discussing South Dallas indicated that the submarket wasn't going to cool off any time soon3.
The focus of these developments is on industrial and manufacturing. Does it translate to housing? Let's take a look.
Diving into Housing, South of I-30
Defining South Dallas geographically is an interesting exercise. It depends on who you talk to. But, for the sake of this exercise, we selected Zip Code areas between Loop 12 and I-35E, and are either just south of, or right on, I-20. This area is where much of the industrial development is taking place. The North Texas Real Estate Information Systems (NTREIS) data revealed housing data, including median price and length of time on the market.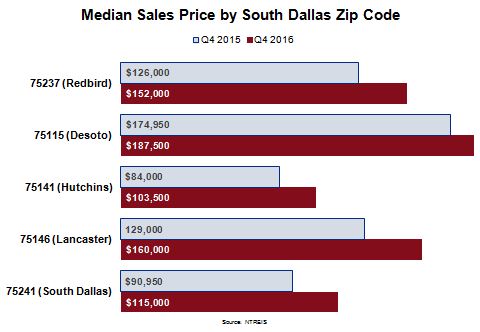 A glance at the median sales price for the final quarter of both 2015 and 2016 (the latest data available), tells a pretty compelling story. Namely, that housing prices increased across all five of the Zip Codes represented. Another interesting aspect to note is that the median housing sales price for the entire Dallas County area was $215,000. There are socio-economic and other reasons why the housing information above is below the median price. Suffice it to say that all of these areas did see a price increase, year over year.
Now let's look at another metric, days on market:
The statistics show us that, contrary to sales prices, the days on the market across all Zip Codes dropped from the year before. The exception to this is 75241 (South Dallas) – but the days on the market trended up, only slightly. By one whole day.
What This Means
South Dallas is different from Far North Dallas when it comes to a variety of factors, such as socioeconomic and even business. Far North Dallas seems to be shaping up to be the corporate/office campus center, while South Dallas has been attracting distribution, warehouse and manufacturing companies. So, a direct comparison is not even apples-to apples close.
But it's safe to say that, similar to its northern neighbors, this submarket is seeing a growing demand for housing. It will be interesting to see if the trend continues, especially as North Texas, as a whole, keeps generating all-time housing records.
[1] Steve Brown (2017, March 9). "North Texas Home Sales Hit All-Time High in February; Prices Up 13%." Dallas Morning News. Retrieved from http://www.dallasnews.com/business/real-estate/2017/03/08/north-texas-home-sales-hit-time-high-february-prices-13-percent
[2] Christine Perez (2017, January 4). "Why Businesses Are Flocking to Dallas-Fort Worth. D Magazine. Retrieved from https://www.dmagazine.com/commercial-real-estate/2017/01/why-businesses-are-flocking-to-dallas-fort-worth/
[3] "Connect Dallas: South Dallas, The Overnight Success, Years in the Making." (2017, March 3). Connect Media. Retrieved from https://www.connect.media/connect-dallas-south-dallas-the-overnight-success-years-in-the-making/